Arcachon Bay Tour
We invite you to our Arcachon Bay Tour, Tourism awareness of the Arcachon Basin is built around several landmarks, guarantees of quality and diversity.
Visit Pyla Dune (Dune du Pyla), the largest sand dune in Europe, and admire the spectacular views from the top. Explore the town of Arcachon before a visit to an oyster farm for a sample of fresh oysters.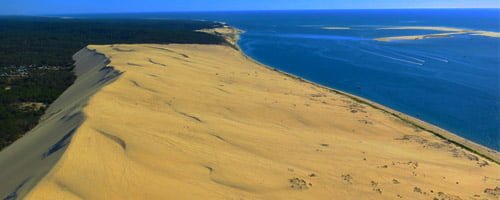 Pyla Dune: today's the largest sand dune in Europe rises 110 meters above sea,  revealing a stunning view of the entrance of the basin, and the pine forests of the Landes. It is first and foremost a remarkable geo-morphological phenomenon.

The Arcachon Basin is the only lake in the Aquitaine coast to have retained an opening on the sea twice a day.
Discover exceptional sandy beaches, long, picturesque sea-front promenade, a manageable size – shops, bars, restaurants, casino, even the train station – all within easy walking distance. All topped off by Arcachon's signature architecture, exemplified by the Winter Town's magnificent villas which feature stained glass, ornate balconies and intricate brickwork.